Camberwell High School Refurbishment Year 11 Centre Canterbury, VIC
Hayball were engaged to refurbish the top level of Building C, one of the older cream brick buildings at the Camberwell High School Campus. At three levels, it is the tallest building onsite with a long and narrow-shaped plan that had proved problematic in its use as a learning environment according to contemporary pedagogical practice.
The completed project has transformed this difficult space into a learning destination for Year 11 students embarking on their final years of secondary education, and completes a formative step in the school's overarching vision for legibility and ownership of the learning environment by students and their teachers, at each stage of their journey – according to the school's design principles, and those of the Victorian State Government.
The project brief called for 8no. General Learning Spaces (Sessional Studios); 2no. Seminar Rooms (for actively engaged learning (AEL), and VCE Studies); a Learning Commons for independent study and focused settings for small groups of 3-4 students with interactive adjacency to teaching staff; Meeting Room(s); Opportunities for presentations and gatherings; Informal Breakout Spaces; 200 Student Lockers; and Office Space for 8no. teaching staff.
Beyond the physical brief, there was also a call for the design to provide good cross-visibility throughout the space, to enable control of the climatic environment through improved air-flow and controlled natural light, and to ensure that the space provided for good acoustics.
While the Year 11 Centre is specific to a particular year level group, is an important 'bridging space' for the greater school community through which senior students (and their parents and carers) are welcomed into a senior year's environment. The design of the space, therefore, plays an important role in the overall cohesion of the school community by being attentive to the needs of younger senior students – making them welcome to the ultimate chapter in their senior learning and providing them with a clear and connected space with intuitive and diverse support both from peers and staff. Increased 'before' and 'after-hours' use of the Central Learning Commons is positive in the way it supplements the greater experience of senior learning between home and school.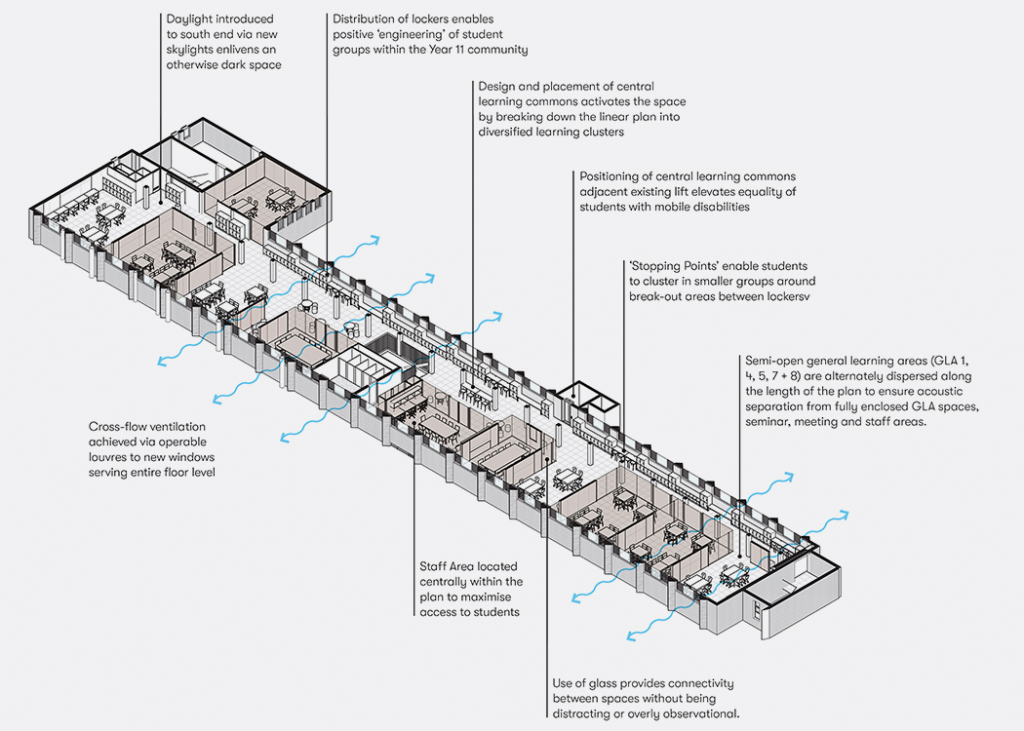 Services
Architecture
Interior Design
Project Status
Completed 2020
Client
Camberwell High School